Copper Production
---
Author : Admin
Posted Date : 12/16/2016 6:48:42 PM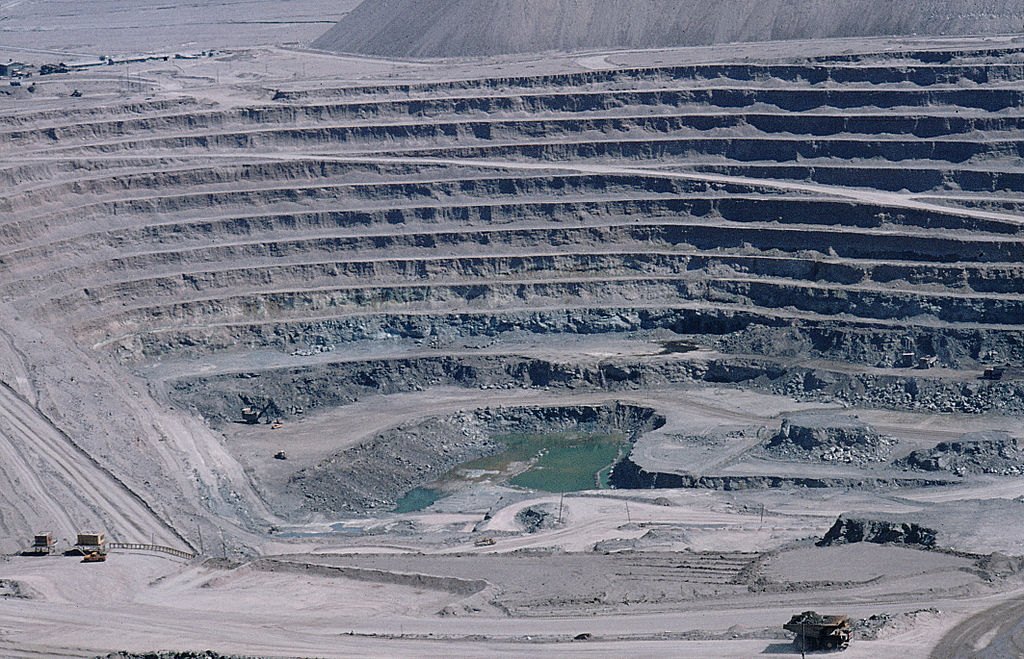 Most copper is mined or extracted as copper sulfides from large open pit mines in porphyry copper deposits that contain 0.4 to 1.0% copper. Sites include Chuquicamata in Chile, Bingham Canyon Mine in Utah, United States and El Chino Mine in New Mexico, United States. According to the British Geological Survey in 2005, Chile was the top producer of copper with at least one-third world share followed by the United States, Indonesia and Peru. Copper can also be recovered through the in-situ leach process. Several sites in the state of Arizona are considered prime candidates for this method. The amount of copper in use is increasing and the quantity available is barely sufficient to allow all countries to reach developed world levels of usage.
Reserves
Copper has been in use at least 10,000 years, but more than 95% of all copper ever mined and smelted has been extracted since 1900, and more than half was extracted the last 24 years. As with many natural resources, the total amount of copper on Earth is vast, with around 1014 tons in the top kilometer of Earth's crust, which is about 5 million years' worth at the current rate of extraction. However, only a tiny fraction of these reserves is economically viable with present-day prices and technologies. Estimates of copper reserves available for mining vary from 25 years to 60 years, depending on core assumptions such as the growth rate. Recycling is a major source of copper in the modern world. Because of these and other factors, the future of copper production and supply is the subject of much debate, including the concept of peak copper, analogous to peak oil.
The price of copper has historically been unstable, and it sextupled from the 60-year low of US$0.60/lb (US$1.32/kg) in June 1999 to US$3.75 per pound (US$8.27/kg) in May 2006. It dropped to US$2.40/lb (US$5.29/kg) in February 2007, then rebounded to US$3.50/lb (US$7.71/kg) in April 2007. In February 2009, weakening global demand and a steep fall in commodity prices since the previous year's highs left copper prices at US$1.51/lb (US$3.32/kg).
Methods
The concentration of copper in ores averages only 0.6%, and most commercial ores are sulfides, especially chalcopyrite (CuFeS2) and to a lesser extent chalcocite (Cu2S). These minerals are concentrated from crushed ores to the level of 10–15% copper by froth flotation or bioleaching. Heating this material with silica in flash smelting removes much of the iron as slag. The process exploits the greater ease of converting iron sulfides into oxides, which in turn react with the silica to form the silicate slag that floats on top of the heated mass. The resulting copper matte, consisting of Cu2S, is roasted to convert all sulfides into oxides:
2 Cu2S + 3 O2 → 2 Cu2O + 2 SO2
The cuprous oxide is converted to blister copper upon heating:
2 Cu2O → 4 Cu + O2
The Sudbury matte process converted only half the sulfide to oxide and then used this oxide to remove the rest of the sulfur as oxide. It was then electrolytically refined and the anode mud exploited for the platinum and gold it contained. This step exploits the relatively easy reduction of copper oxides to copper metal. Natural gas is blown across the blister to remove most of the remaining oxygen and electrorefining is performed on the resulting material to produce pure copper:
Cu2+ + 2 e− → Cu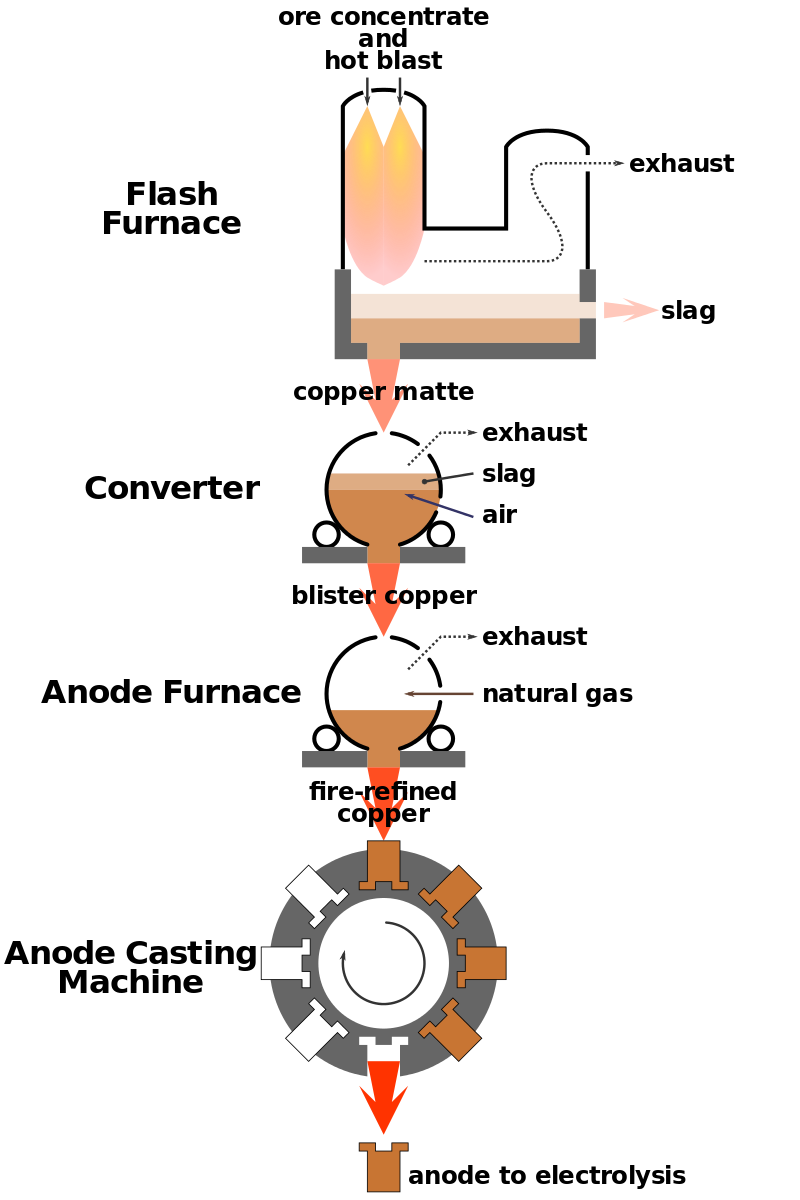 Recycling
Like aluminium, copper is 100% recyclable without any loss of quality, both from raw state and from manufactured products. In volume, copper is the third most recycled metal after iron and aluminium. An estimated 80% of all copper ever mined is still in use today. According to the International Resource Panel's Metal Stocks in Society report, the global per capita stock of copper in use in society is 35–55 kg. Much of this is in more-developed countries (140–300 kg per capita) rather than less-developed countries (30–40 kg per capita).
The process of recycling copper is roughly the same as is used to extract copper but requires fewer steps. High-purity scrap copper is melted in a furnace and then reduced and cast into billets and ingots; lower-purity scrap is refined by electroplating in a bath of sulfuric acid.